I was only able to cover one film festival - Transatlantyk Festival here in Łódź - in 2017, but nonetheless managed to see a pretty good range of films from all over the world throughout the year: one of the benefits of living in a cinephile's city. Hollywood mainly disappointed or disgusted (on screen and off), but elsewhere there was much to celebrate and to be inspired by. There were some great communal experiences - the shared laughter at Lost in Paris, the shared shock and awe at mother! - but, most of all, 2017's films felt like very private and interior experiences to me, making spaces for reflection that I'm truly grateful for, especially in the current climate. In no particular order, here are fifteen of my favourites of the year (plus extras, disappointments and non-favourites).
A Ciambra
(dir. Jonas Carpignano)
Jonas Carpignano's debut feature Mediterranea (2015) was an intimate drama of contemporary immigration experience that combined the humanism of a Vittorio De Sica with the rough sensuality of a Claire Denis. Produced by Scorsese, A Ciambra is a superb semi-sequel that switches the spotlight
to Mediterranea's
precocious tearaway (Pio Amato) as he comes of age in the Romani community of Gioia Tauro and faces difficult choices of allegiance.
L'amant double
(dir. François Ozon)
I'd started to give up on Ozon after several lacklustre efforts (
Young and Beautiful
and
The New Girlfriend
, ugh). But
Frantz
and
L'amant double
constituted a terrific return to form that neatly encapsulated the two sides of the director's sensibility: elegant, earnest classicism, on the one hand, and trashy, sexy cheek, on the other. The films were linked by twisty, but brilliantly lucid, cinematic story-telling, fine performances, and freshly subversive takes on that habitual Ozon theme: the possibility (or otherwise) of substitution and replacement.
Lost in Paris
(dir. Fiona Gordon and Dominique Abel)
The only film I saw this year that made me weep with laughter, this joyous comedy of City of Lights misadventures serves up some blissful Tatiesque slapstick as it brings together a meek (yet increasingly intrepid) Canadian librarian and a cheerful vagabond in the search for an errant Aunt. With Emmanuelle Riva belatedly proving herself a comedy virtuosa in one of her last screen roles.
God's Own Country
(dir. Francis Lee)
Francis Lee makes a beautiful debut film here, charting the love affair between an unhappy young Yorkshireman (Josh O'Connor) and the watchful Romanian migrant worker (Alec Secareanu) who's hired to help out on the former's farm. The pair's progression from hostility to tenderness is poignantly and perceptively charted, creating a love story of contrasting personalities to rival Weekend (2011) as well as another fine entry into the growing canon of contemporary British rural dramas. O'Connor and Secareanu are terrific, and there's subtly amazing supporting work from Gemma Jones and Ian Hart; in fact, I'd put this in a double-bill with Tom Browne's Radiator (2014), another great Jones-starrer, that's also among the best British films of the last few years.
A Ghost Story
(dir. David Lowery)
Rooney Mara is a vacuum, Casey Affleck's more expressive with the sheet over his head than without it, and the whole thing starts out like an arch hipster take on Truly Madly Deeply. Yet A Ghost Story reveals grander, weirder designs as it progresses, and I gradually found myself captivated and deeply moved by the odd rhythms and juxtapositions of this singular odyssey through time and space.


Maudie
(dir. Aisling Walsh)
"The whole of life, already framed, right there." A superb performance from Sally Hawkins is the centrepiece of Walsh's lovely, low-key biopic of the Canadian "primitive" artist Maud Lewis. As much as a portrait of the artist, the film is a portrait of a relationship, and one that doesn't shy away from difficult, complicated emotions. To that end, Hawkins is ably supported by Ethan Hawke as the uncommunicative grump of a spouse whose worldview (not to mention windows and walls) is gradually changed by his wife's spontaneous artistry.
mother!
(dir. Darren Aronofsky)
"Baby…?" From domestic unease to full-scale apocalyptic vision, Darren Aronofsky's latest was by turns chilling, ludicrous and powerful: a delicious slow-burn turned orgy of excess that has a lot on its mind - including creativity, the insanity of celeb culture, spatial transgression and gender roles - as it reveals the allegorical implications at the heart of the house. Richard Brody puts it best in his fine review.
Manifesto
(dir. Julian Rosefeldt)
Strange Little Girls
Goes to the Movies, as Cate Blanchett slips into thirteen personas to deliver a range of manifestos in settings that are occasionally complementary but mostly delightfully incongruous.
Dada ignites a fierce graveside eulogy while Claes Oldenburg's "I am for an art…" provides the basis for a conservative family's prayer; in the final section, the focus turns, beautifully, to film, as a teacher offers a lesson that veers from Brakhage to Dogme. What sounds like an exercise in pretension proves to be a surprisingly funny, enjoyable, humane and
dramatic
as well as a challenging experience, with Blanchett using the mannerism that's come to define some of her screen performances to best effect (and with a dose or two of self-parody), as she creates some indelible presences. "I am for an art…" well, rather like this one, as it turns out.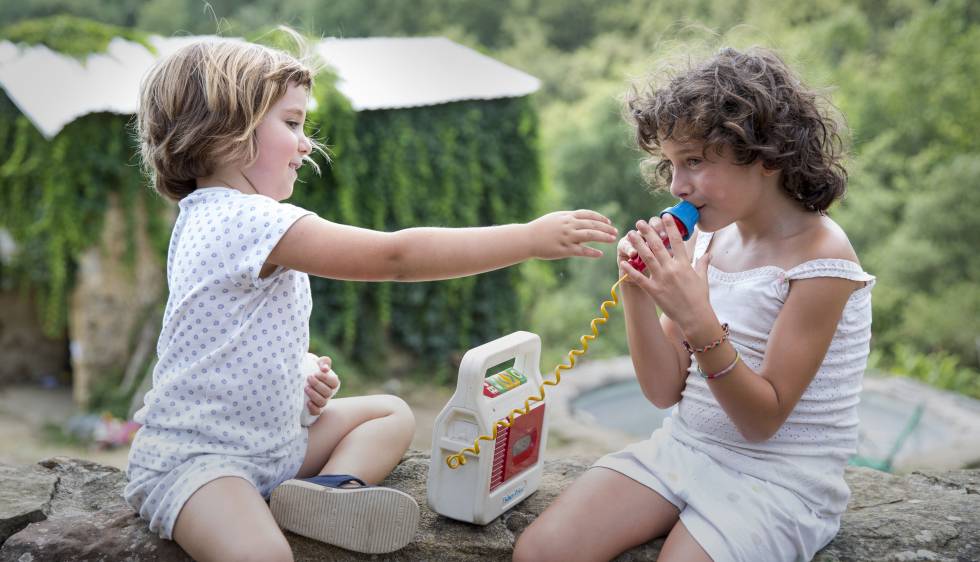 Summer 1993
(dir. Carla Simón
)
A beautiful Catalonian film that captures the contours of a grief that's barely been comprehended, let alone assimilated,

Simón's

movie charts the struggles of the orphaned Frida (Laia Artigas) to settle into living with her Aunt and Uncle following her mother's death from AIDS-related pneumonia. Alert to the rhythms of childish play and the casual cruelty that can underpin it, Simón has made a deeply personal film based on her own experience, but one that never feels self-indulgent or that locks the viewer out. The handling of the child actors is beyond praise, with Artigas and Paula Robles (as her little cousin Anna) creating a girlhood double act to rival those in Carlos Saura
'
s Cria Cuervos (1975), Victor Erice
'
s The Spirit of the Beehive (1973) (a clear intertext for the film), and Dorota Kędzierzawska's Crows (1994).
Chavela
(dir. Gund and Kyi)
Working against the popular doomed-female-artist mode of Asif Kapadia's Amy (2015) and Nick Broomfield's Whitney: Can I Be Me? (2017), Gund and Kyi's doc Chavela is a triumphant rejoinder that, without sanctifying its subject, offers a loving tribute to the iconic singer who shook up Mexican music with her extraordinary voice and challenging persona. In a film t

hat elegantly combines interviews with footage of the singer's intense performances, Pedro Almod
ó
var puts it best, as he describes seeing Vargas perform live:
"She
was like a priestess: she saw that you'd made mistakes in love, and she saw your deep torments. You felt that she
'
d absolved you of your sins - and then encouraged you to commit them again."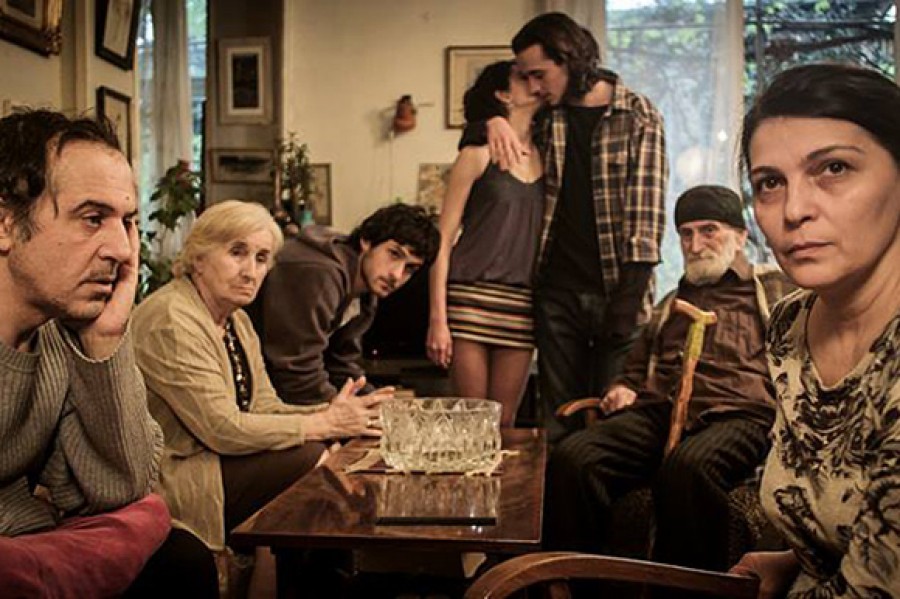 My Happy Family (dir. Nana Ekvtimishvili and Simon Gross)
A 50-something teacher leaves her troublesome family and moves into a modest
Tbilisi
apartment by herself. That action yields funny, painful and surprising results in
Nana Ekvtimishvili and Simon Gross's perfectly picthed drama, which deals with the always-challenging negotiation between our own desires and the demands or expectations of others.
A Quiet Passion
(dir. Terence Davies)
Not without some awkwardness - the Wildean pastiche of the opening scenes is a little much - Davies's portrait of Emily Dickinson deepens as it progresses, creating a film that ends up as strange and single-minded as its subject. And after her amazing work as the dying matriarch in Josh Mond's James White, here's another transcendent performance from Cynthia Nixon.
Insyriated
(dir. Philippe Van Leeuw)
From A Ghost Story to A Quiet Passion, mother! to Maudie, expressive use of domestic space distinguished many 2017 films that I liked, none more so than Philipe van Leeuw's distilled and intense drama that documented 24 hours in the life of a Syrian family (and neighbours) holed up in their home during a siege in Damascus.
Little Men
(dir. Ira Sachs)
Though a 2016 release, I can't not include Ira Sachs's superb drama, which I was able to see for the first time this year, and which was among the films that affected me most profoundly. Shot in the same bright, airy, welcoming style as Love is Strange, to which it forms a clear companion piece, this portrait of a teen friendship tested by real estate market forces was quiet, observant and compassionate towards all its characters. (Imagine if Ken Loach had taken on similar material...)
Bonus
:
Pokot
(Holland),
The Bekscinkis: A Sound and Picture Album (
Borchardt
), Centaur (Kubat), Dunkirk (Nolan), The Sense of an Ending (Batra), Paris Can Wait (Coppola), The Eagle Huntress (Bell), Tehran Taboo (
Soozandeh)
, It Comes at Night (Shults), The Lost City of Z (Gray), Heal the Living (Quillevere), La Familia
(Rond
ó
n C
ó
rdova)
, Wonder Wheel (Allen), Their Finest (Scherfig), Lady Macbeth (Oldroyd), Waiting for B. (Toledo/Spindel).
Favourite DVD Reissues
: Daughters of the Dust (Dash), Life is Sweet (Leigh).
Disappointed
: The Square (
Östlund
),
Call Me By Your Name
(Guadagnino), The Florida Project (Baker),
The Party
(Potter), I Am Not Your Negro (Peck),
Get Out
(Peele) (On the latter, God bless you,
Armond White
).
Worst
: Wind River (Sheridan), Let the Sunshine In (Denis),
Song to Song
(Malick),
Return to Montauk
(Schlondorff),
Aurore
(Blandine Lenoir).
Still Unseen
: Human Flow, Faces Places, Phantom Thread.